Hello Epochians!
Gosh, is it really the end of March already? Has it really been late December since I last sent out a newsletter? This long brutal winter has gotten into my head, and as the snow and ice melt around our house, I feel like I am emerging from a bit of a blur.
For those of you who didn't see the announcement on our forum, on our twitter feed, on Instagram, on our blog, our G+ community or our website, here is the announcement for our latest offering...
One Day Dig 8:: Baby Bupu Released!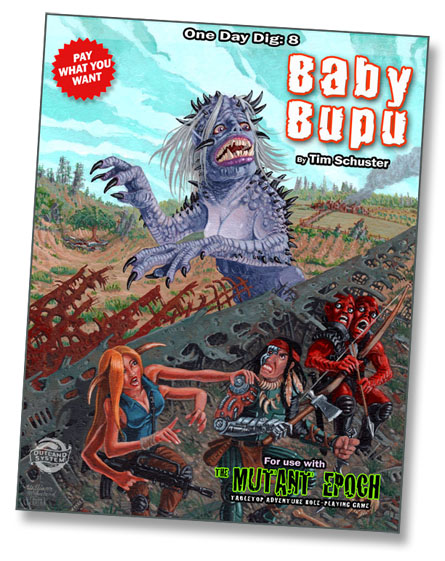 A rampaging Rubble Troll...
A village in crisis...
A quest for answers undertaken.
While making their way to the far off ancient metropolis to undertake their next dig, the excavators come across a village in chaos. Their guardian, A rubble troll, seems to have gone mad, and ransacks the countryside, ruining the crops, damaging the houses and causing great worry among the inhabitants of Alnwick.
With pleas for help, and a sizable offer of silver, the villagers recruit the passing diggers to discoverer the truth behind the behavior of the mutant monster - a normally peaceful monster that keeps away those that would eagerly wipe out the community if given half a chance.
What perils and pitfalls await the adventurers as they investigate the countryside around the tiny farming town, and who or what is responsible for this calamity?
This is our 8th One Day Dig, written by Tim Schuster, and is a Pay What You Want adventure suitable for both new and experienced players using characters of 1st or 2nd rank and can be placed in the Crossroads Region or the Game Master's own setting. It includes 2 maps, 14 illustrations, and is 14 pages in length. Stand by, Epochians, for yet more post-apocalyptic gaming goodness from Outland Arts.
One Day Dig 8: Baby Bupu
Gumroad | RPGNow | DrivethruRPG

Pay What You Want! Suggested $1.50
---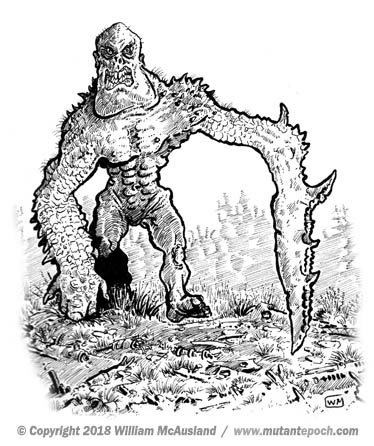 The Saw Arm
And, with the weekend coming, I was thinking all you Epochian Game Masters need something new to terrorize your players with. I present the Saw Arm, a new free Society of Excavators exclusive monster. This freak likes to throw ruin debris (including landmines and barrels of toxic sludge) before closing for some chopping and gutting action. Grab the free 3 page PDF here: http://www.outlandarts.com/membersonly/TME-SOE-bestiary.htm
---
Fantasy Clip Inks New Releases for 2018!
In other news, we've recently added more sets of Fantasy Clip Inks to the lineup, which now total twenty stock illustration packs or 543 stock images! While these images are not my main focus, they do sell consistently and offer a lot of variety and value to publishers of fantasy fiction, websites, and game products.
Also, I love to draw, and while waiting to commence the big art push on the expansion rules (which will have hundreds of images), it is wise to keep up on my drawing skills in preparation for that most important of projects.
Around this launch we've created a FCI twitter feed and Instagram feed why not follow along and check out the art?

So, we've added Spot Arts sets 9, 10, 11 and 12, as well as created a bundle for all 20 sets. If you're a publisher, then why not check them out here: http://www.outlandarts.com/fantasyclipinks.htm
Expansion Rules Progress Report
We're getting some serious hours in on the much anticipated TME Expansion Rules book. It's time, therefore, to start sharing... so we've built a homepage for the upcoming and ever growing part two of the TME Hub Rules.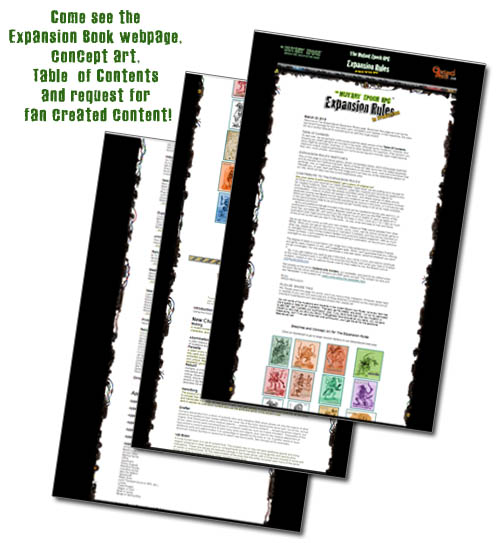 Here, I've added the current Table of Contents to give you an idea of what's inside. This directory has been ripped from the Scrivener file where all the book sections are being assembled as text is added, including content from fans like you. Do you have home brew relics, mutations, flaws, cybernetic implants and other great TME content that you'd like to share? Got something to submit for consideration? Email it to me directly at. info@outlandarts.com . Learn more about this request at the Expansion Rules web page here.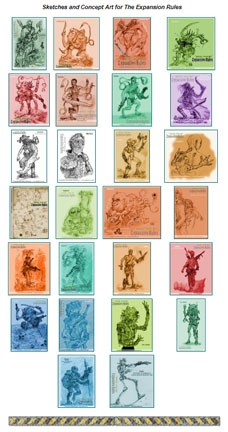 Expansion Rules Concept Art
Finally, we've added some concept art and graphite (pre-ink or digital grayscale) versions of the new character types that will be included, such as Plantoids, Parasites, Mutorgs (cyborg-mutant human hybrids) Rebuilt, Grafters, an Android, Robots Vat Brains, and Abominations. Not shown are digital beings, new bestial humans and Nanoborg Characters.
These drawings now appear in a dedicated sketchbook section of the TME website. See it here.

Enjoy and please share on your own Instagram, Twitter, Facebook, Pinterest or website venue!
Well, here's hoping for a creative, healthy and prosperous spring to you all,
All the best,
William McAusland
Creator
The Mutant Epoch
Outland Arts / The Mutant Epoch RPG / Fantasy Clip Inks / Handcrafted Dungeons

Amazon.com Storefront (TME print books) https://www.amazon.com/sk=The+Mutant+Epoch&ref=nb_sb_noss
Buy Direct from us at our Gumroad Storefront (TME PDFs where we earn 95%) https://gumroad.com/outlandarts
Drivethrurpg.com storefront https://www.drivethrurpg.com/browse.php?keywords=The Mutant Epoch
Instagram https://www.instagram.com/mutantepoch/
Pinterest https://www.pinterest.ca/wmcausland/
MeWe.com (replaces G+) https://mewe.com/i-front/williammcausland
Facebook https://www.facebook.com/TheMutantEpoch
Mutant Epoch Public Forum: http://mutantepochforum.boards.net/
Mutant Epoch Creator's Blog http://themutantepoch.blogspot.com/
Twitter feed: http://twitter.com/mutantlord
Zazzle Merch Store: https://www.zazzle.com/store/outlandarts/products
YouTube Channel: http://www.youtube.com/user/TheMutantEpoch
email: info@outlandarts.com