---


---

Join us on the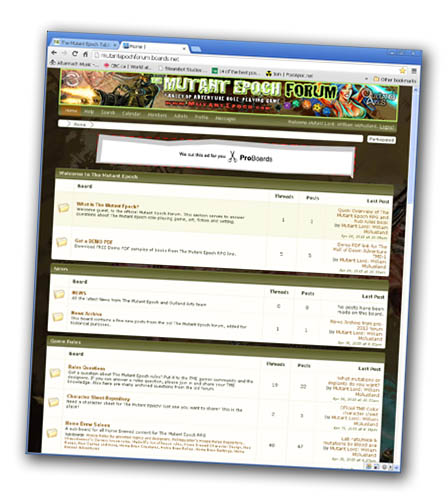 Not an SOE member yet? Bought a print or PDF copy of the Mutant Epoch hub rules? Its Free for you!
.

Wizard of the Wastes
One Day Dig 9 by Rey Rodriguez
In Production
Expansion Rules
In Production
See Art and Table of Contents here!
-
The Mutant Epoch Novel Series
'Season One' In
Edits and Cover Art phase
First draft completed April 2019
-
---

"This is possibly the best game I have ever purchased out of hundreds of games. I have read the other reviews and will try and fill in some of the blanks for those who are trying to decide if this is the P. A. game they want. Read More...

Every Monday, this summer,
we're releasing a
'Pay What You Want ' mutant monster for the enjoyment
of your players.
Learn more Here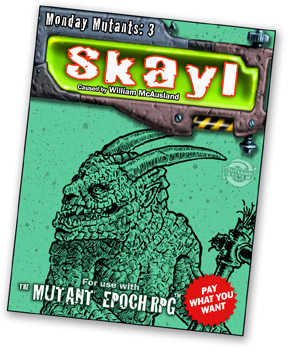 Monday Mutants #3 Skayl

Grab this freak at Gumroad* or Drivethrurpg.com
*We get 95% of any tips you toss
in our ol' helmet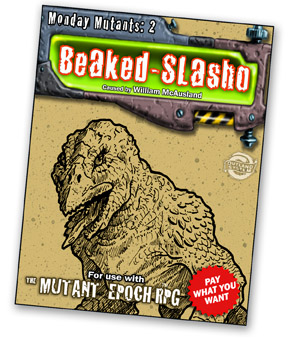 Monday Mutants #2 Beaked-Slasho

Grab this freak at Gumroad* or Drivethrurpg.com
*We get 95% of any tips you toss
in our ol' helmet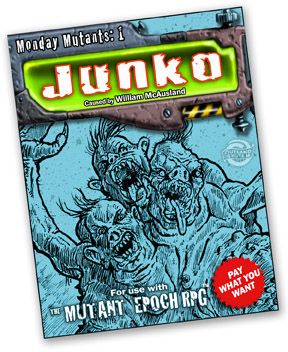 Monday Mutants #1 Junko
Grab this freak at Gumroad* or Drivethrurpg.com
*We get 95% of any tips you toss
in our ol' helmet
---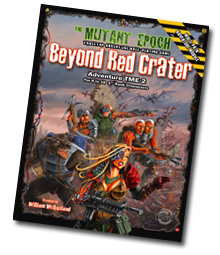 ---

Excavator Monthly Compendium
---

Pitford : Gateway To The Ruins
---
---
---


at Amazon.com


Buy at Gumroad where we earn 95% royalty
or at or Buy PDF $4.99 at drivethrurpg.com here




Missing dig teams.
A fabled stronghold.
An insidious peril.

Someplace in the dunes, near a dead city of the oldsters, stands Gun Station Gamma, once more emerging from the shifting sands. The intrepid excavators set out to investigate the fabled gun emplacement, having heard rumors of missing dig teams being taken there, of the vile humanoid occupants, of heartless slavers, and a great trove of relic treasures within.
In this rapid-fire adventure, the excavators face sandstorms, thirst, predators, and pitfalls before ever reaching their destination — and once they find it, then the trouble begins.
What mad experiments, pitiless torments, evil ambitions await within this much-coveted installation in the wastes? Will the adventurers emerge triumphantly and put an end to a festering malice, or go out in a blaze of nuclear fire?

Gun Station Gamma uses the Outland System™ game mechanic and requires only The Mutant Epoch™ hub rules RPG game book to play.
Designed for 6 to 10 third to fourth rank characters, this module is not setting specific, but if using the Crossroads Region as your campaign area, then the dig team can set out from Pitford.

• Rapid Fire adventure design: Crafted for group gaming of The Mutant Epoch™ RPG with generally set locations and encounters, although with our usual mix of rich random loot tables.

• 31 Illustrations • 1 Player Handout • 3 Maps • 4 New Creatures • 61 Pages • Plus, SOE (Society of Excavator) Members can freely download all the maps, critters and handouts
---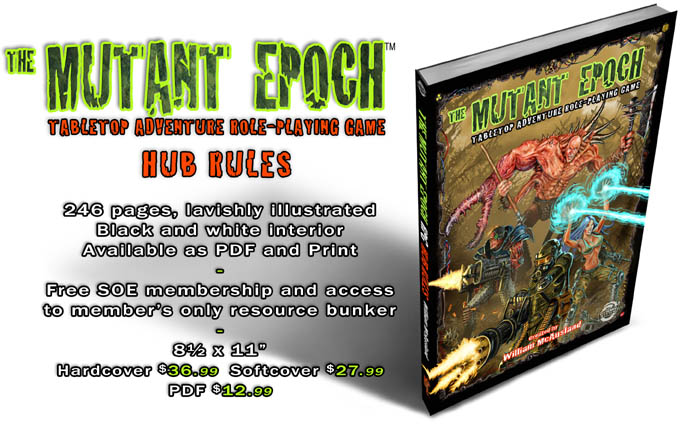 ---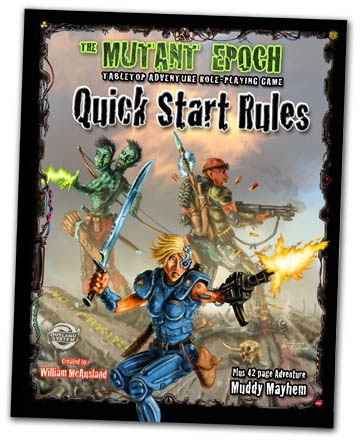 or Pay What You Want at Gumroad.com here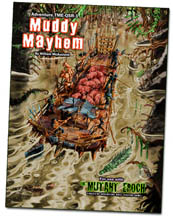 The Mutant Epoch RPG Quick Start Rules includes everything you need to truly test drive the Outland System Game mechanic and explore the astounding, richly supported, freak filled post-apocalyptic universe of The Mutant Epoch. Included in this book are a rich sampling of mutations, skills and cybernetic implants, along with three character types: Pure stock humans, mutants and cyborgs, plus ten creatures, ten relics and basic easy to learn rules.
Also included is a brief sampling of the town of Sandbarra from the Crossroads Region Gazetteer, along with a 42 page entry level adventure called Muddy Mayhem. Learn more here!
---


click image to learn more

Get it for just $189.99US +shipping

Total Bundle retail Value $292.74 -35% You Save $102.75

Oscar-Mike Bundle

Get it for just $155.00US +shipping

Total Bundle retail Value $221.90 -30% You Save $66.90
---

Need more Short intro and convention adventures? Grab these Pay What You Want One Day Digs
---