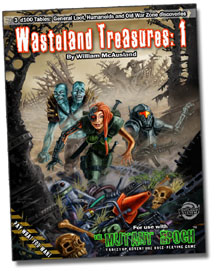 Wasteland Treasures : 1
Your Excavators fight hard in the wastelands, ruins and emerging barter villages, why not let 'em see some reward? Here then, in Wasteland Treasures One, you'll find plenty to keep them challenged, well paid and keen for the next expedition.
Included are three d100 Loot tables: a General Ruin Treasure Table, an Old Warzone listing and trophies and curiosities carried by humanoids such as Skullocks, Warmorts, and Moaners.
For use with The Mutant Epoch or other post-apocalyptic RPG, this 19 page PDF is perfect for the busy game master who needs to quickly access location appropriate items. The Old Warzone table, however, is far more than a list of goodies and rewards for player characters. It's got both dangers and adventure hooks built in, including landmines, rogue robots and the ever hazardous chem storm.
19 pages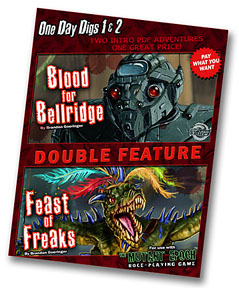 DOUBLE FEATURE
Step into a world of post-apocalyptic gonzo adventure! Introducing the One Day Digs Double Feature. Starting off with a bang, our first quest is Blood for Bellridge, followed up after a short intermission by Feast of Freaks!
Designed for introductory games at conventions, game stores, and private home tables, One Day Digs are the brain child of author Brandon Goeringer and illustrated by Will McAusland. They are crafted to showcase a bit of The Mutant Epoch setting and flavor, introduce some creatures and relics, as well as offer an example of how the Outland System game mechanic works. For the most part, these adventures are for 4 to 6 new PCs of first rank.
9 pages Written by Brandon Goeringer