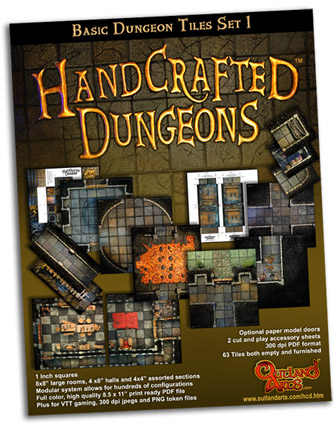 | | |
| --- | --- |
| $12.99 for zipped file | |
Buy now at gumroad.com or Drivethrurpg.com

---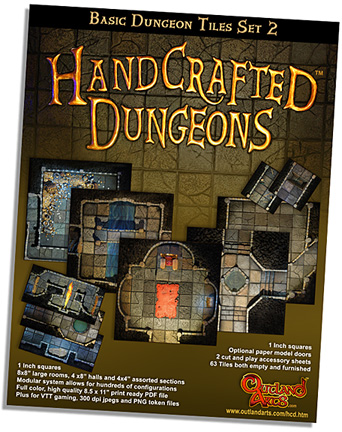 | | |
| --- | --- |
| $12.99 for zipped file | |
Buy now at gumroad.com or at Drivethrurpg.com

Handcrafted Dungeons::
Basic Dungeon Tiles
Sets 1 and 2
Handcrafted Dungeons are literally that, crafted and painted by hand. All the details added to the furnished tiles are also hand built components and placed in the dungeons to add to the adventure's mystery, depth, danger and treasure hunting appeal. While a bit of retouching was necessary to clarify certain features, modify some stone colors, or show lines, everything you see was either made by hand, or built from a scratch model kit as in the case of the skeletons. We made the tiles from an air dry clay, used real stones, sand, and twigs, scraps of wood and then stained, painted and antiqued the tiles. Even the arms and armor on the skeletons were hand built.
Our sets include tiles in their most basic, unfurnished variants as well as adorned or 'staged' versions. The staged tiles come with bones, skeletal remains, chains, bridges, barrels, staircases, doors, pits, collapsed portions of the ceiling, coffins, crates, blood spatters, treasure piles and more. Using standard one inch tiles, these grids are perfect for 20, 25. 28 and 30mm fantasy games.
These tiles provide ready to play gaming terrain that has an old school, epic sword and sorcery feel, perfect for role-playing or any fantasy miniature dungeon crawl.
While there are literally hundreds of layout possibilities with HandCrafted Dungeons sets 1 and 2, especially if printing duplicates of standard halls and rooms, one can always use more tiles for more options. Given this, we recommend the wonderful, highly appealing dungeon tiles produced by Inked Adventures. We liked them so much that we made a special 4x8" connecting corridor piece, included in set HCD 1.
Sets include 300dpi Jpegs of all floor tiles and PNG formatted tokens for VTT play (Virtual Tabletop). Plus, each set includes all files in a press ready 300 dpi PDF, perfect for sending to a copy center to be printed on thick paper for tabletop use with miniatures.