In Other News....


We've decided to leap frog over larger books and release issues of Excavator Monthly Magazine on or about the 15th of each month. Our goal then is to have issue one available August 15th. This of course slows the releases of larger books, but feel that the content injection of TME content into our growing fan base will be well received, and bring attention and new gamers to The Mutant Epoch RPG and Milieu.



In The Pipes
As mentioned above, we will be proceeding with the monthly magazine at once. Nevertheless, the layout for the full version of Pitford: Gateway to the Ruins is done and we have commenced interior illustrations, of which there will be 111, with the full confirmed page count of 188. Scheduled release date late September 2011.
Target Site
For Society of Excavator members who purchase The Mall of Doom, we've added a Game Masterís only Downloads page for the adventure. Here you can find either individual PDF pages of the maps, player handouts, new relics NPCs and new creature contained in the adventure book, also available is a handy all -in one PDF containing all these documents for free download. While owners of the PDF can simply print off pages as needed, those of you with the print version may not want to cut up their book, so can log in and grab PDFs as needed, especially the Village of Walsave map, which has a hex grid on it so the GM and players can draw it.
To get to the SOE area containing the Mall of Doom Downloads, go to Downloads, scroll down to Downloads by Product and click the big orange button saying 'get it here', or follow this link if you are logged in to the memberís area: membersonly/TME-SOE-The-Mall-Of-Doom-GM-downloads.htm
Sightings
---
Reading
Want some free Post-Apocalyptic fiction? Check out the collection here at http://www.megaton.us/fiction
---


Post Apocalyptic Movies and Media
From the youtube page...

A trailer for the forthcoming online alternative reality game 'A Map of the Floating City' which is also Thomas Dolby's new album due out in Q3 2011
---
Whoa, this looks pretty good! !0,000 Days trailer. It sounds like a digitally released series of shows instead of a single movie event.
Here is a link to their facebook page if you want to learn more:

http://www.youtube.com/user/10kdaysdigital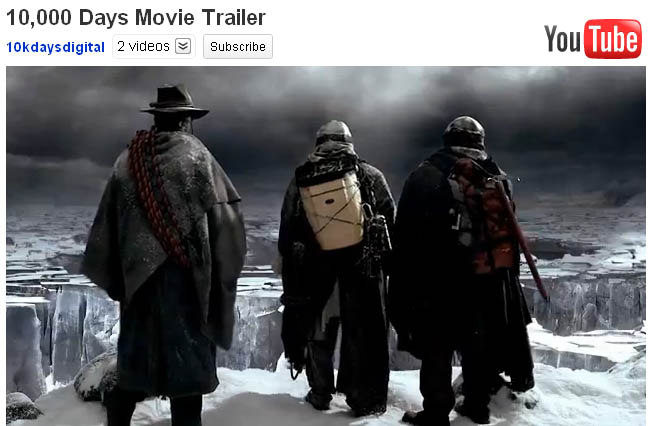 ---
Artist Spotlight
Dean Stolpmann
Hailing from New Zealand, Dean's art is as good as it comes, and a treasure trove of ideas for game masters! Check out his robots and soldiers, not to mention the Greek hoplites. Looking at his work inspires me to step up my own illustration.

Music for Gaming

Want some music to set the mood for your The Mutant Epoch or other RPG sessions? Here are a few of my favorites available for free on Grooveshark.com. What I love about Grooveshark is you don't need to download anything, or buy an album before you've fallen in love with it. I am a huge fan of soundtracks, partly because there are no lyrics, since somebody singing draws my attention away from the often technical or word based work I have before me.

The first selection is the Hans Zimmer soundtrack to one of my favorite movies: Black Hawk Down, followed by the move with Mel Gibson in it called We Were Soldiers, followed by my favorite, Invincible. I've heard a few tracks from Invincible in previews for upcoming film, and am not sure what Invincible is from, but suspect it was a computer game. If anybody out there on the list knows, please let me know.

http://grooveshark.com/#/album/Black+Hawk+Down/192799
http://grooveshark.com/#/album/We+Were+Soldiers/3547333
http://grooveshark.com/#/album/Invincible/4824345


Well, a short issue this time around, but we wanted to let everybody know that The Mall of Doom was available now and that we were busy on the magazine.
Sincerely,
Will


William McAusland
Creative Director
Outland Arts / The Mutant Epoch RPG / Fantasy Clip Inks
web sites: http://www.outlandarts.com or http://www.mutantepoch.com
Blog http://themutantepoch.blogspot.com/
Twitter feed: http://twitter.com/mutantlord
YouTube Channel: http://www.youtube.com/user/TheMutantEpoch
email: info@outlandarts.com