What a freak show!
Keep your post-apocalyptic game players on the edge of their seats with 173 all new creatures from Abhorra to Ziagota. Your players are gonna ask "Now what the hell is that!?"
Welcome to the much anticipated Mutant Bestiary One!
Have your Mutant Epoch players seen it all? Looking for more than the 104 monsters found in the hub rules book? Well this richly illustrated tome is the answer. Dive in and get ready to throw some surprises their way!
This is the seventh book in the Mutant Epoch role-playing game line, using the Outland System game mechanic. Of course, any GM can easily convert the stat blocks of these critters to another system.
This collection of nasty freaks, from the blood mole to the earth shaking mobilamortus tree, will to challenge and intrigue excavators of low to high ranks. Also included are humanoid and bipedal specimens that can be played as new character types, if the GM allows it, including krenth cat-folk, diminutive devilkins, dog-boys, anthro-tortoises, bipedal raccoons and haughty, pale skinned underfoot.
Featured in this book:
- 173 creatures, from animals such as sheep and deer ­- that often exhibit mutations - to terrifying off-shoots, predatory plants, bio-engineered organic weapons, and hyper evolving monsters of the wasteland, bog, ruins and reef.
- The majority of these creatures have their own random mutation lists, so making up unique beasties is a cinch!
- Encounter tables are broken down into terrain types as well as the difficulty ratings for low, mid and high rank character parties.
- Each creature is depicted in either a group or individual illustration with a total of 167 images.
- PDF aspects: Fully bookmarked table of contents, clickable page number references both in creature descriptions as well as the extensive encounter tables at the back of the book.
- SOE ONLY CONTENT: Online player handout directory. For Society of Excavator Members only, we've placed ALL the art in this book as downloadable sheets that you can print off or present on your tablet and show your players when you need to declare "This is what you see!"
- Just some of the creatures you'll meet in this 148 page collection:
● 16 humanoids
● 68 Animals of old and their off-shoots
● 5 new predatory plants
● 3 Whales
● 11 New insects
● 12 Slugs, snails and mollusks
● 8 Crustaceans
● 7 New cats
● 6 New dogs
● 4 Ape variants
● 30 Assorted monstrous fiends
Preview link shows the first 8 pages of this 148 page book. Get your Preview here!
Visit The Mutant Bestiary One art gallery for an extensive, closer look at dozens of never before seen mutant freaks! These things are gonna kill adventurers, so have plenty of new character sheets on hand.
A few art samples of what's inside....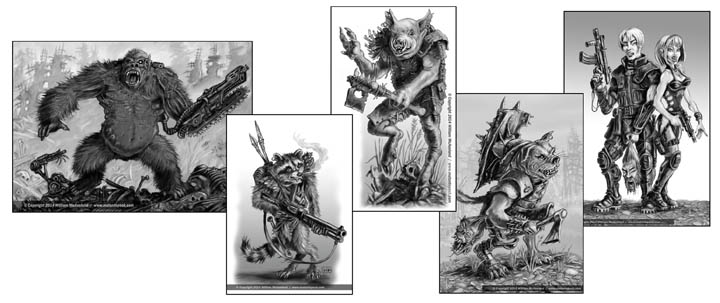 ---