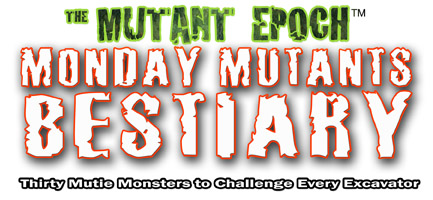 Monday Mutants Bestiary
30 Mutie Monsters to Challenge Every Excavator
OLA1012 ISBN 978-0-9949237-8-3

Print book $24.99
8.5 x 11, 206 pages
Amazon.com
Amazon.UK
Amazon.ca

PDF $10.99
Gumroad
drivethrurpg.com


As a Game Master for The Mutant Epoch, you need more mutie monsters, treasure tables, and a few short adventures to begin the mayhem!

As a TME player, you need more challenges, more heroics, and more wicked loot!

You'll find all this, and more, within these pages! While 24 of the creatures in this tome of terrors are available as 'pay what you want' pdf downloads, we've enhanced many of them with more art and created 6 all new mutant monstrosities to challenge even the most robust dig team.

These 6 new critters are exclusive to this bestiary and include the gargantua-bison, junk-ghoul, muto-colossus, flyoid, trash-anemone, and an enormous mutant chicken called a razor beak. The other twenty-four freaks include massive apex predators like the lump devil, weed demon, masher, and pheedlot, a deep water reptilian called the wave lurker, as well as insidious ambush hunters such as the wall hugger, wyngdeth, and spider sister. Here too, player character must to contend diminutive humanoids such as the skayl lizard folk, or even smaller piffers. Other creatures include the foul-mouthed krutok, merciless shokgast, grotesque skullgut, bog-devil, along with other nightmares such as the arm-gunn, dust fiend, wriggle-hack, grumble strike, junko, noxo, rubble-imp, sap-crawler, beaked-slasho, and giant grumpy stomp

This book uses the Outland System™ game mechanic and requires only The Mutant Epoch™ hub rules RPG game book to play.

Included in this 206 page book
• 30 Nightmarish mutants, with many random mutation and loot tables, along with
full art player handout sheets for each.
• Encounter Tables
• 101 Illustrations
• 3 Flat and 6 Isometric maps
• 4 Mini adventures for the 'Shokgast'
• 2 Complete adventures: 'The bog-devil's Lair' and 'The Wall Hugger's Tower'
• Plus, SOE (Society of Excavator) member Game Masters can freely download all the maps, and player handout images right here! GMs Only!!!
Reviewed in the United States on February 20, 2023 by McKendry Herrmann on Amazon.com
5.0 out of 5 stars An invaluable resource for Game Masters of the Post-Apocalypse.

An invaluable resource, every page oozing with imagination-sparking monstrosities for any post-apocalyptic gamemaster! This book comes packed with charts, critters, mutations, and lairs to muck up your excavator's day! The artwork, as always, is plentiful and evocative - drawing you right into the blasted landscape of the Mutant Epoch!


Reviewed in Canada on November 2, 2022 by Mike Hamilton on Amazon.com
5.0 out of 5 stars Bestiary and so much more!
A perfect source book for The Mutant Epoch game! Not only a bestiary with 30 creatures, 24 from the Monday Mutants in print for the first time, it also has 6 completely new creatures as well. With added maps for ambushes, a mini adventure and encounter tables! Filed with gorgeous art work, it has wonderful descriptions and ideas for placement of the creatures in each entry, just over 200 pages of goodness! I love this book! Very happy with my purchase and I love having the Monday Mutants in print form in my hands and using it in my next table top game! Well worth it! Get your today!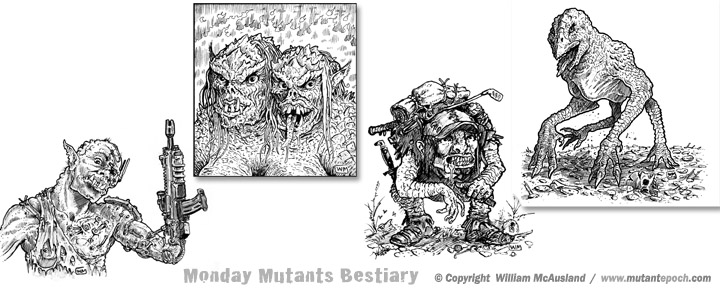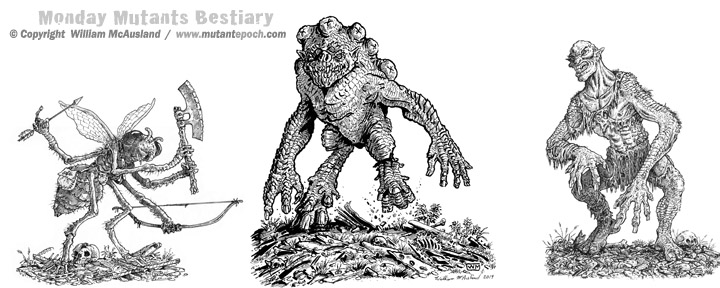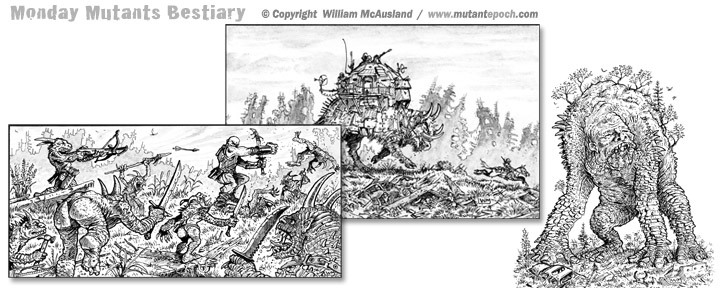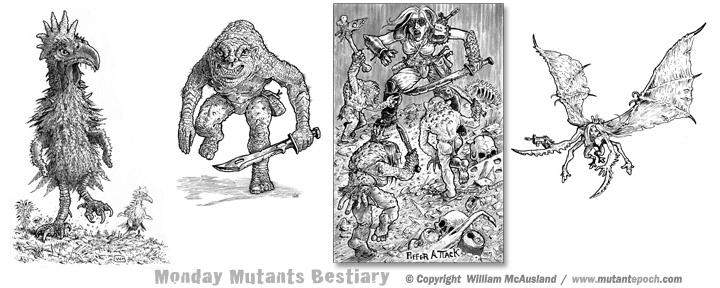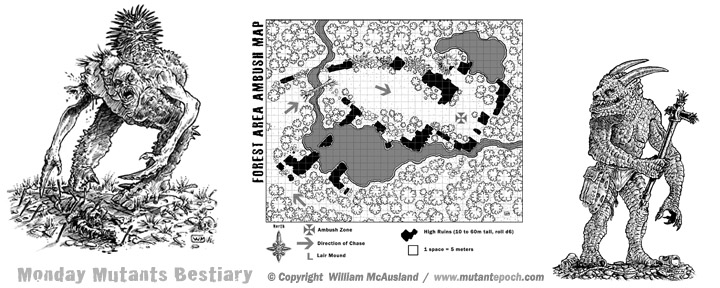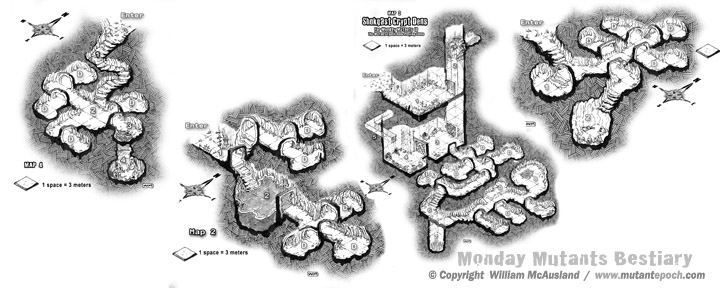 ---


Have you joined yet?
Home | Products | Overview | Art Gallery | About Outland Arts | Site Map | Links | FAQ | Contact | SOE Membership kit | Members Login | Blog
Copyright © 2022 Outlandarts.com All rights reserved. No part of this site may be reproduced or transmitted in any form or by any means, electronic or mechanical, or by any information storage or retrieval system