The Mutant Epoch Media Kit
Do you run a blog, podcast, forum, chat room, eZine or other publication? Are you a reviewer or news source for gamers or those interested in science fiction, fantasy, or post apocalyptic fiction and art? If so, we've put together a media kit on this page where you can download files for inclusion in your production or news source. For the purposes of review, publicity, and news, text may be quoted from this preview website and the Preview PDF without prior permission. Likewise, images included in either the high resolution or web and email based media kits (both shown below) are open for use by legitimate publications and websites so long as the images are part of a write up on The Mutant Epoch with either the web site address or a link given to www.mutantepoch.com .
The images included in the web based media kit are all 72dpi and suitable for internet or email applications ( click here to downloaded zipped file), however for print productions, please contact us with your credentials for 300 dpi tiff versions.
Regardless of whether you represent a news or other publication source or are just a gamer or fan of PA fiction and art, if you are interested in helping to build buzz for the upcoming release of The Mutant Epoch RPG, download one of our TME banners or desktop wallpapers here or email us and lets talk.
Please contact us when your publication, news item or other mention of The Mutant Epoch is available so we may link to it.
Best regards,
The Outland Arts Team
The following two sets of images show what is contained in both the web based and high resolution media kit zipped files. Please take text for review purposes from this web site or the downloadable TME PDF preview found here.
Note: The photographed real life person is The Mutant Epoch setting and game creator, Will McAusland.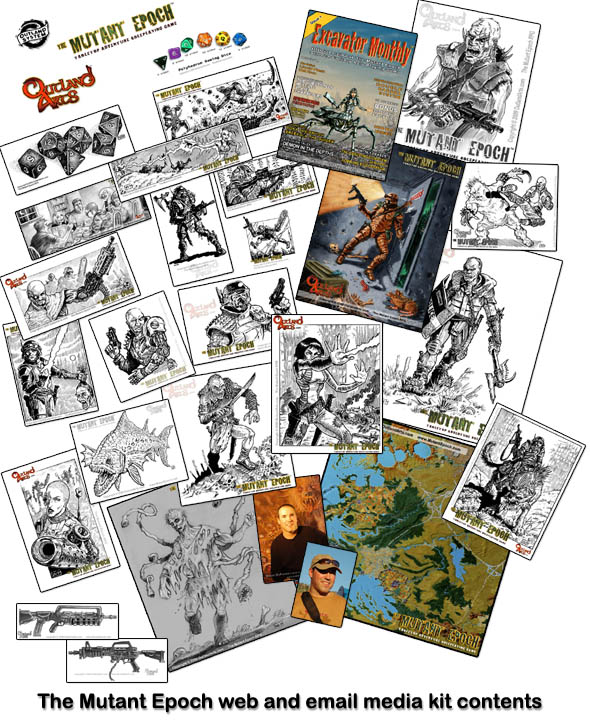 ---